View All News
Gravelbourg Shuttle Wins Raise the Barn Grand Prize!
December 14 2022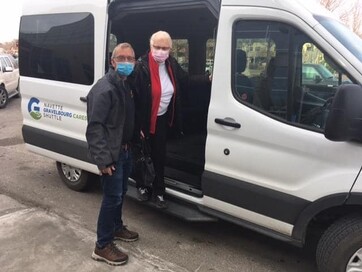 Thank you, Gravelbourg, area and Saskatchewan…WE WON!!
Simply put, if it wasn't for faithful supporters like you and our loyal riders who believe in us, have believed in us, Gravelbourg Cares Shuttle Service wouldn't exist. So thank you to Hawks Agro for nominating our unique and successful community service. Thank you everyone for keeping the faith. For believing in the "little shuttle that could!" For taking time out of busy schedules to vote, encourage and share daily the link to WinField United Canada's "Raise the Barn" funding project. A project which has given Gravelbourg Cares Shuttle and many other community projects a chance to become known and make things happen."
Thank you EVERYONE, for everything you have done to keep the Shuttle rolling along for more than three years.
On that note I would like to say Thank you NEIGHBOURS, thank you RIDERS, Thank you HAWKS AGRO, Thank you WINFIELD UNITED CANADA, Thank you EVERYONE…we appreciate and are grateful for all that you did and for all that you do to help us.
Merry Christmas
Happy New Year
Sincerely
The GCSS Team
"Never doubt that a small group of thoughtful, committed citizens can change the world; indeed, it's
the only thing that ever has."
--Margaret Mead
The Gravelbourg Cares bus service provides transportation for individuals and families who need to travel to larger centers for medical or wellness appointments. The Shuttle runs from Gravelbourg to Moose Jaw, Swift Current, Assiniboia and Regina. Call dispatch at (306) 650-7333 to book your trip. For more information, check out their brochure or visit their Facebook page for more information.