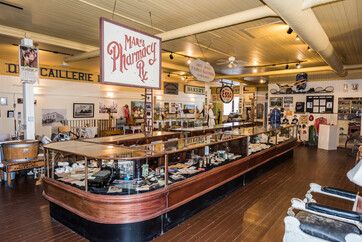 Gravelbourg & District Museum  |  
Devoted to the history of Gravelbourg and the stories of its people, the museum contains a collection of early pioneer memorabilia including extensive artifacts from Gravelbourg's earliest residents. People profiled include Monsignor Charles Maillard, Dr. J. A. Soucy and Father Pierre Gravel.
The Gravelbourg and District Museum is open seven days a week during the months of June through August. Guided tours of Gravelbourg's historic sites are available in both languages, leaving from the Tourist Centre, located at the museum.
To access the Museum or to arrange for a tour, please contact the museum at (306) 648-2332.
HOURS OF OPERATION
Summer Hours (July - August)
Daily: 10 am - 4 pm
Groups of 10 or more or those who'd like to take a tour in the off-season, please call 306-648-2332 or 306-648-7030 or email museegravelbourg@gmail.com.
For a tour of the Cathedral, please contact Louis Stringer at 306-650-8228