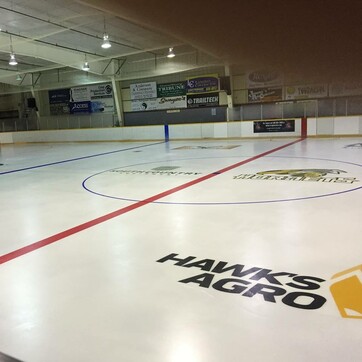 LA PALESTRE | 4TH AVENUE EAST
The Palestre facility has a 700 person seating capacity and is open for ice skating from October to March and includes a Minor Hockey program, a recreational hockey team, a Senior hockey team, Skating Club and a curling club. In the summer months both arena's are available for rent for weddings, family, reunions, graduations and trades shows. Our facility supplies such as tables and chairs are also available to rent, please find our rental agreement form @ Palestre Rental Form
Scrimmage users, regardless of age, must wear a helmet
Children aged 7 years old and under must be accompanied by a parent or guardian of 16 years of age and older who is responsible for their *direct supervision, with a maximum of 4 children for each parent or guardian.
*Direct Supervision – to be physically present, within an immediate distance.
For more information contact the Sports, Culture & Recreation Office at (306) 648-3301, ext. 6 or contact us.