HORSE RIDING CAMPS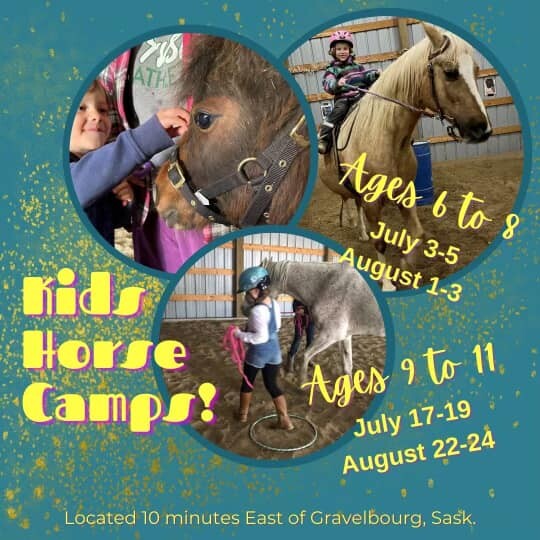 Ages 6-8: July 3-5 and August 1-3
Ages 9-11: July 17-19 and August 22-24
Quigley Arabian Ranch
kids half day camps are full of learning in a fun atmosphere with small groups to allow for more one on one time with their horse team member!! Learning consists of on the ground handling and riding work to keep it well rounded for learning and team building skills. We provide the horses so no need to bring your own. All experience levels welcome!
Located 15 minutes East of Gravelbourg.
Contact Natasha Quigley for more information and to register.
PH: (306) 648-8205
Email: Quigleyarabianranch@gmail.com
VACATION BIBLE SCHOOL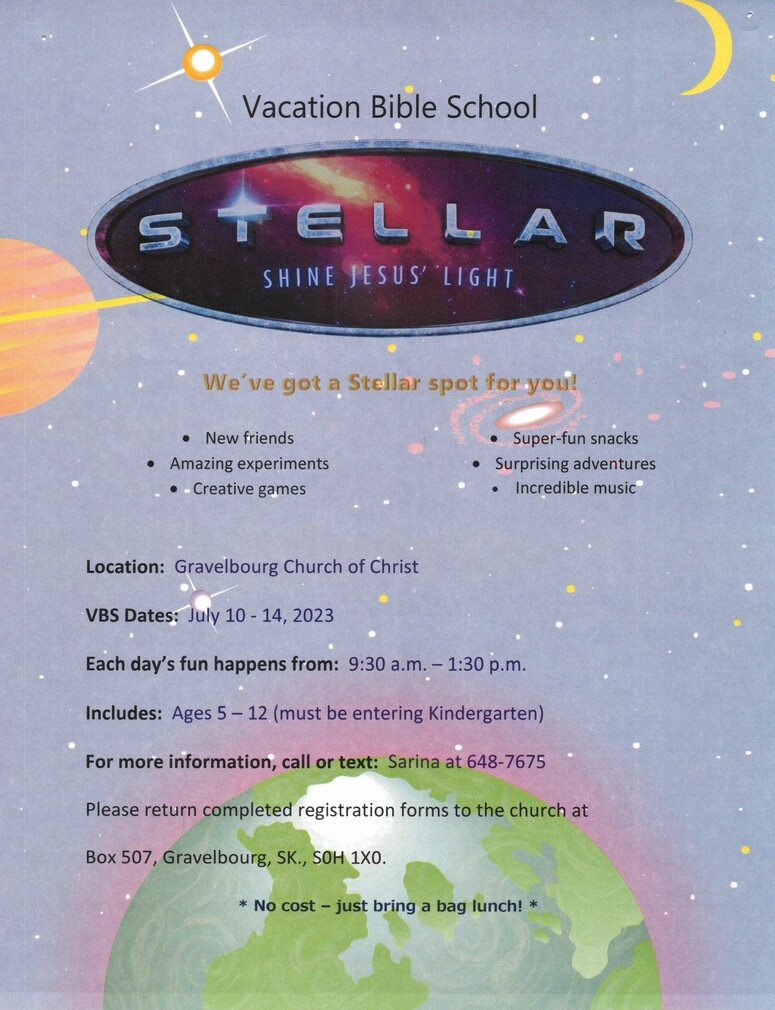 July 10-14, 2023
Contact Sarina Bell at 306-648-7675 or The Church of Christ for more information.
Church of Christ Facebook Page
Camp Maillard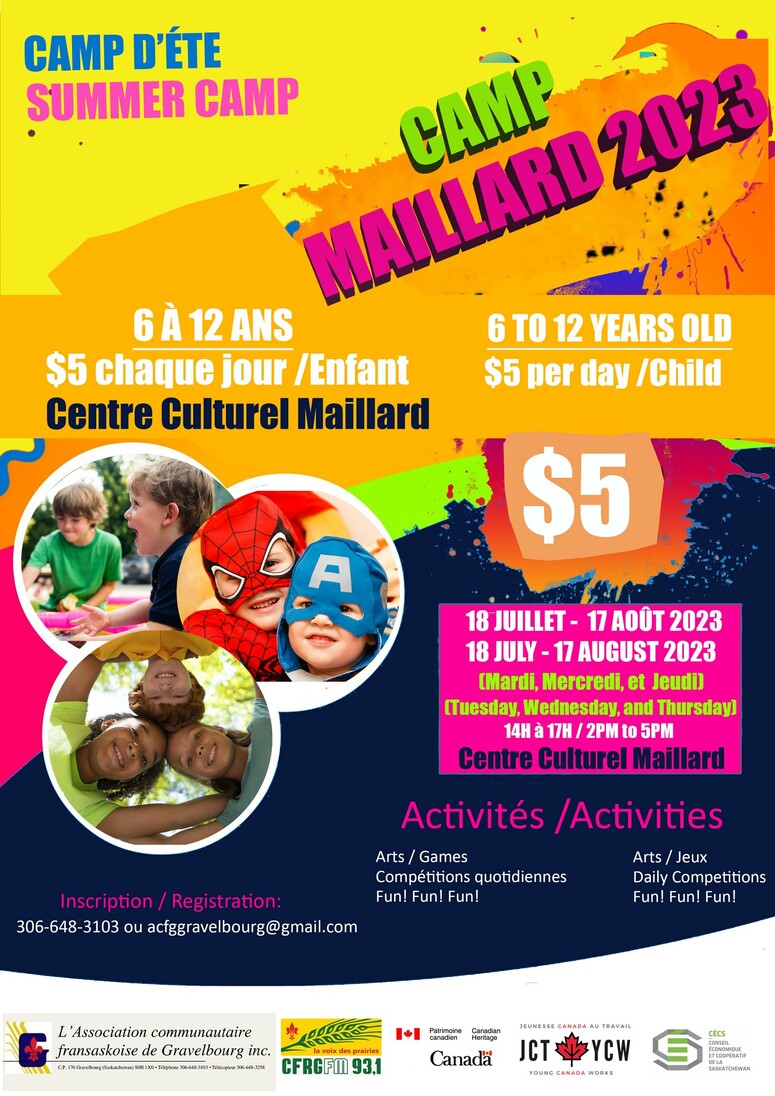 Le camp Maillard est de retour ! Le camp Maillard, c'est l'occasion de s'amuser et de vivre des expériences formidables. Inscrivez vous sans tarder en appelant le 306-648-3103 ou par courriel à l'adresse suivante : acfggravelbourg@gmail.com
Camp Maillard returns! All sorts of fun adventures await for kids 6-12 years. Sign up today!
PH: 306-648-3103 
Email: acfggravelbourg@gmail.com
CAMP VOYAGEUR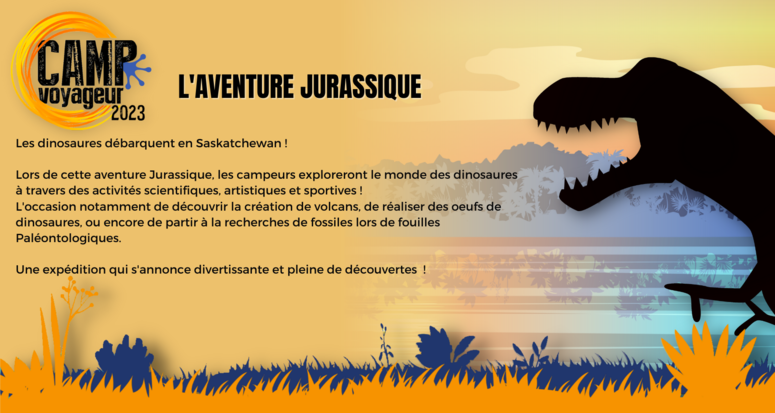 CULTURAL CENTRE MAILLARD | 133 5TH AVE E
Pour des informations, le paiement et les inscriptions, contactez acfggravelbourg@gmail.com
Le début des inscriptions pour le Camp Voyageur 2023! Cette année, l'équipe du Camp va à la rencontre des jeunes fransaskois dans différentes régions de la province aux dates ci-dessous.
A Gravelbourg: 19-20 juillet
RENAISSANCE GAIETY THEATRE SUMMER CAMP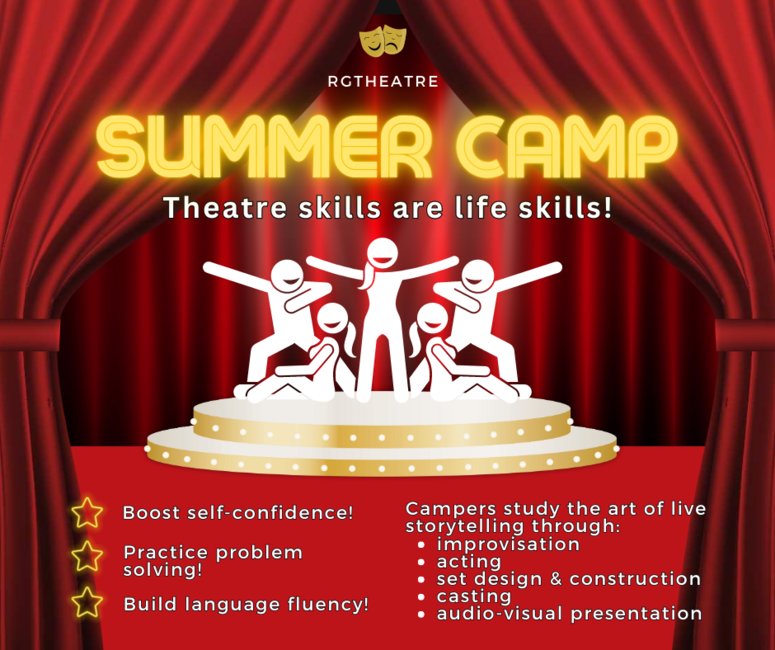 RENAISSANCE GAIETY THEATRE 412 MAIN ST
Theatre camp is back! Enrich your child's natural creative potential through the arts and avoid the "summer slump."
Performance isn't just fun--it's a valuable life skill that boosts self-confidence and aids in language fluency. Through drama, children learn cooperation, problem solving, and persuasive speech.
At RGTheatre Camp, your child will learn the art of story telling through music, improv, acting, set designing, casting, crafting and more! The camp will conclude with a public performance on the stage of the historic Renaissance Gaiety Theatre complete with popcorn and refreshments.
-->REGISTRATION LINK<--
Camp details:
LOCATION: 412 Main St. (Renaissance Gaiety Theatre, Gravelbourg, SK)
DATE: July 31 - August 4, 2023
TIME: 10 am - 3:30 pm
AGES: 9-14
COST: $200
E-transfer: gravelbourg.theatre@gmail.com
Cash or cheque made out to Renaissance Gaiety Theatre
By mail:
PO Box 1055
Gravelbourg, SK
S0H 1X0
In person:
Drop off at the Town Office, 209 Main St. (Please make sure the envelop is clearly marked with RGTheatre Camp and the camper's name.)
Contact Erin McArthur for more information.
PH: 306-650-7303
Email: gravelbourg.theatre@gmail.com
MAD TIMES ART WORKSHOPS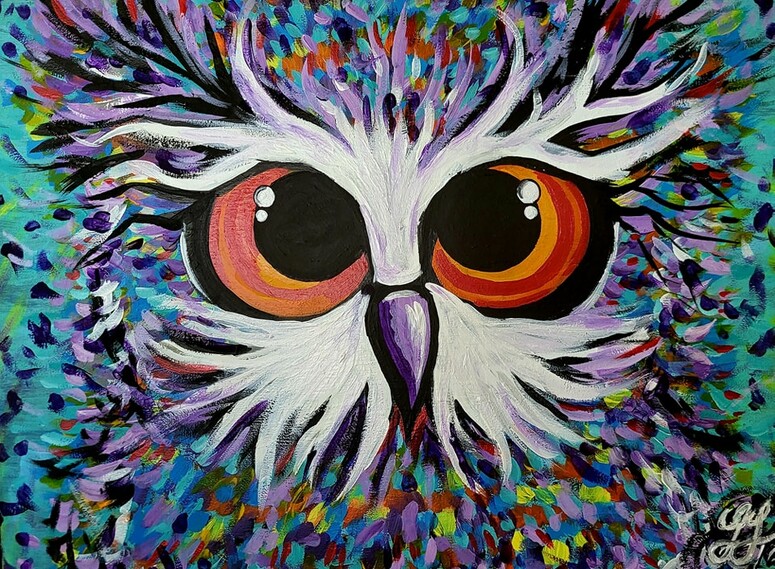 Rainbow Owl Paint Class
Ages 7 to 11
August 19th
2 to 4pm
Art House
212 5th Ave East
$45
Please message the Mad Times 
Facebook Page
or contact laceylanglois01@gmail.com to reserve a spot. 
ART CLASSES FOR KIDS & TEENS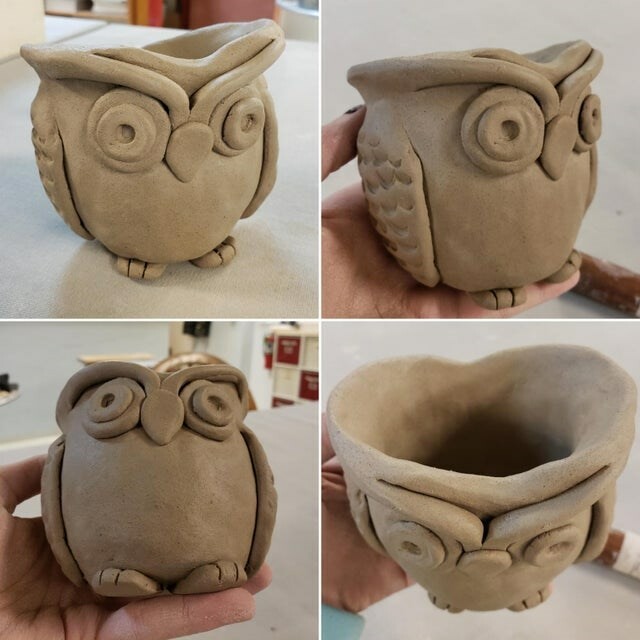 ARTISTIC CREATIONS | 413 MAIN ST
Summer classes TBA
Drop by the Gallery or call 306-648-7030 or 648-5357 to register.
Adult classes at Artistic Creations are open to teens! 
Youth Basketball Camp