A great place to Saskatche-wander!
The Gravelbourg & District Museum
300 MAIN ST (STYLES ENTRANCE)
The museum offers guided tours of the Museum and the Convent. Visit the the Museum's Facebook page for the latest news on exhibits and special events. 
HOURS OF OPERATION
Summer Hours (July - August)
Daily: 10am-4pm
Museum Tour: $5
Museum & Convent: $10
Groups of 10 or more or those who'd like to take a tour in the off-season, please call 306-648-2332 or 306-648-7030 or email museegravelbourg@gmail.com.
Visiting from Regina? Leave the driving to Engelheim Tours! Round trip transportation includes admission to the Cathedral and the Museum.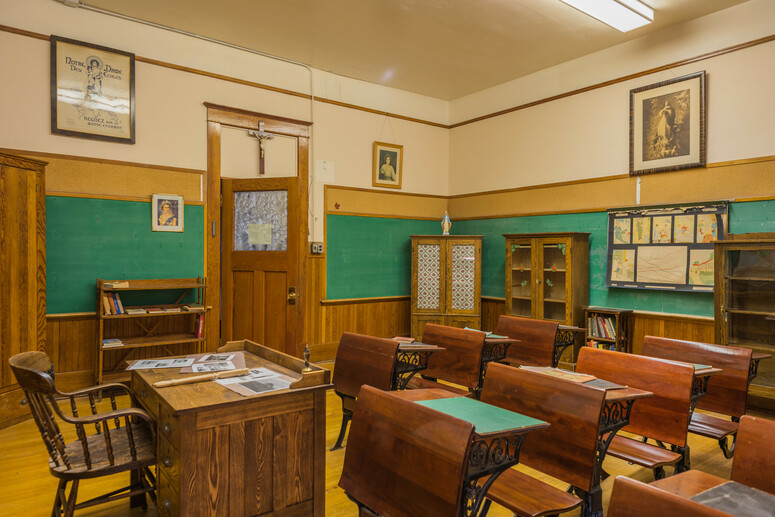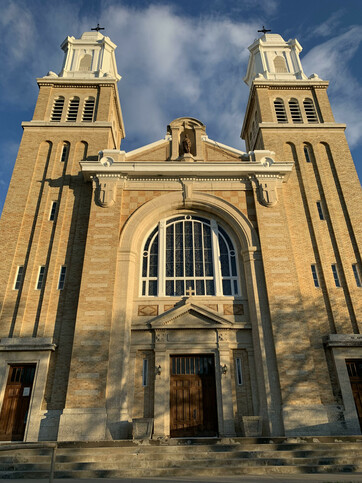 Our Lady of the Assumption Co-Cathedral
Gravelbourg is well-known in the region for its Ecclesiastical Buildings National Historic Site which includes Our Lady of the Assumption Co-Cathedral Notre Dame l'Assomption, the Bishop's Residence, and the former Couvent Jesus-Marie Convent. Constructed in 1919, the Cathedral is renowned for its striking Claybank brick exterior, Tyndal stone, beautiful murals, and stained glass windows. The murals depict the stations of the cross, the sins of the world, and the life and death of the Cathedral's original patron Saint, Philomena. And who was the artist? None other than Monsignor Charles Maillard, the resident priest. Between 1921 and 1931, Msgr. Maillard transformed the interior of the Cathedral into a work of art that is truly exceptional and unexpected in southwest Saskatchewan.
Tours available year-round. Contact Louis Stringer at (306) 650-8228.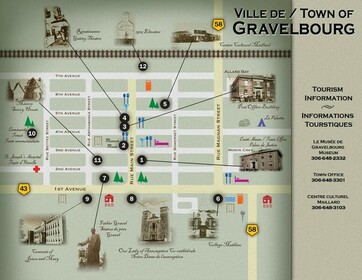 Local Attractions
Take our self-guided Heritage Walking Tour to learn more about Gravelbourg's history and take in the charm and beauty of our heritage buildings.
Arts and Culture
Visitors to the community can stroll down Main Street and visit the growing array of cafes and specialty shops - or visit its National Historic Sites.

Visit the Arts and Culture section of the website for more information.
Shopping and Retail
We have over 100 businesses and services well equipped for all your needs. Clothing, furniture, pet supplies, gardening, grocery, hardware, financial services and so much more all at convenient locations.

Visit the Business Directory section of the website for more information.
Recreation and Leisure
Enjoy the use of the modern recreational facilities for all-season activities which include swimming, golfing, fishing, hockey, curling, personal fitness and bowling, to name a few.

Visit the Recreation and Leisure section of the website for more information.
Annual Events
SUMMER SOLSTICE FESTIVAL
This inclusive cultural event builds on the role of Summer Solstice over the past hundreds of years and reinforces the spirit of southern Saskatchewan. We invite visitors to experience a 'celebration of the sol' with a diverse weekend of musical, literary and performing arts programming. Join us for an international food and drink event, the main street music stage, craft markets, and literary readings.

Visit the Summer Solstice Festival section for more information.
Visit our Community Events Calendar for more local event listings.
REGIONAL ATTRACTIONS
Gravelbourg Museum